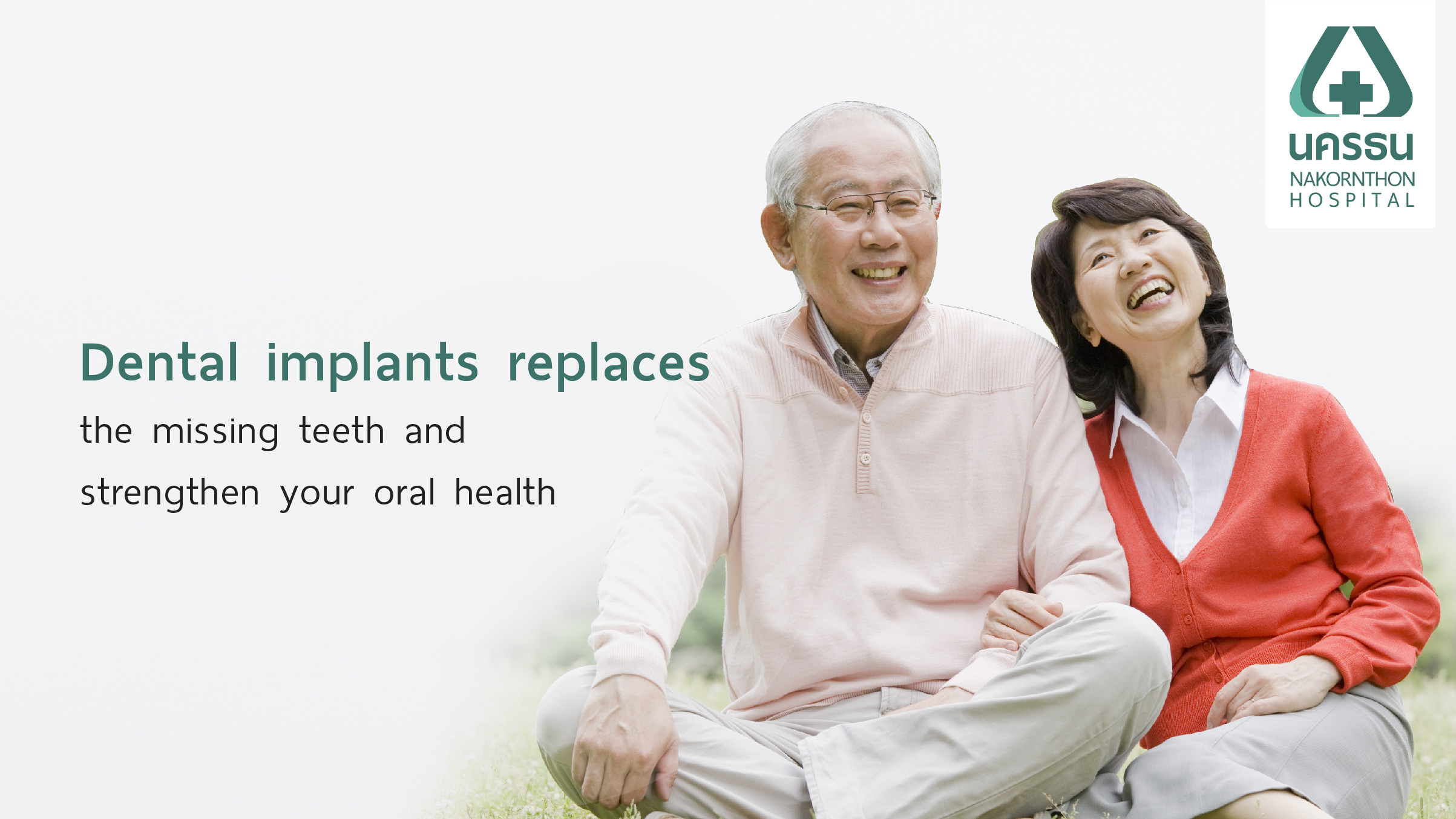 When you lose your natural teeth, wearing dentures to replace gaps is possible. But as time passes the dentures loosen. Part of the cause is that the bone supporting the tooth root has deteriorated, causing the gum ridge to recede. The dentures therefore will not fit properly. Therefore, wearing dental implants can help slow down the deterioration of the bone supporting the tooth roots. It also helps increase adhesion to dentures. Including not having to grind down the adjacent teeth, the gap from which the tooth was extracted. Therefore, it does not disturb or lose the natural tooth structure at all. It can be used to increase the retention of certain types of removable dentures in people who do not have any teeth left. More effective in chewing, easy to clean like natural teeth, and boost your confidence with an outstanding smile.
What are dental implants?
Dental implants are specially designed materials made from titanium. This makes it compatible with the human body. Shaped like a screw and knot to attach to the jaw bone. To replace the natural root of a lost tooth. Dental implants, replaces natural tooth roots for support. Both removable and fixed types help crowns or bridges and dentures bond well and give results that are as close to natural teeth as possible. In which dental implants are considered a very popular treatment nowadays.
What are dental implants for?
Dental implants replace natural teeth damaged by tooth decay, gum disease, tooth extraction, or accidents resulting in tooth loss or the loss of a permanent tooth and if there are many teeth lost, your dentist can diagnose and place multiple dental implants as a support for a bridge or removable denture.
Types of dental implants
Dental implant can be divided into 3 types as follows:
General or traditional dental implants (Conventional Implant). After the tooth is extracted, the patient has to wait 2-3 months for the bone to heal completely. Then insert the implant and wait for it to completely adhere to the implant first. Once the bone is attached to the implant surface, a crown is installed on the implant.
Immediate implant after tooth extraction to reduce surgery procedure for patients and injuries that will occur. After the tooth is extracted, the dental implant can be placed. After the implant has been placed, wait 2-3 months for the bone to adhere well to the implant. Then, a crown or denture will be installed on the implants, suitable for front teeth or back teeth that have sufficient bone structure.
Inserting dental implants Combined with immediate loading of the crown, it saves time when placing the implant and placing the crown together. So that patients can have teeth to use while waiting for the implant to attach to the bone.
Who is dental implant treatment suitable for?
People who have lost their permanent teeth and are 18 years of age or older.
People with broken or chipped teeth the dentist recommends tooth extraction. Dental implants can be made to replace missing teeth.
People who do not want to wear removable dentures.
People who do not want to have their teeth drilled for a fixed bridge.
People who want their teeth to look as natural as possible
People who want to smile and boost their confidence
People who want to improve the efficiency of chewing food
People who want to replace weak teeth that cannot function as an anchor tooth for other types of prosthetics.
Limitations for dental implants
People who want to get dental implants should evaluate themselves first to see if they have any risk factors or if you are unsure, you can see a dentist for a detailed diagnosis before deciding to get dental implants. The limitations are as follows.
People who are not yet 18 years old because the jaw bones are not yet fully developed.
Pregnant women should wait until after giving birth.
People with uncontrolled medical conditions, such as diabetes, are at risk for slow wound healing, inflammation and infection.
People who need radiation treatment for cancer in the face and jaw area
Osteoporosis patients or have weak bones
Patients with severe periodontitis, should undergo periodontal treatment before getting dental implants.
Leukemia patients, hyperthyroid patients and patients receiving immunosuppressive drugs
Schizophrenia or those who have problems controlling muscle function and those who are unable to take care of their oral health
Heavy smokers and those who cannot quit smoking
Preparation before dental implants
Get a thorough examination and evaluation from a specialized dentist to plan a treatment plan, such as the number of dental implants to be placed. Do I need to have a bone graft included? To plan an evaluation before getting dental implants. The doctor will order an X-Ray and CT scans and takes impressions to formulate a treatment plan. In addition, maintaining good oral hygiene is an important thing that patients should do before undergoing treatment. If you have a congenital disease, you should inform your dentist.
Treatment steps by inserting dental implants
The dentist will check and prepare the condition of the mouth, and proceed according to the steps as follows:
The dentist performs surgery to place the dental implants in the appropriate position. It will take approximately 1-2 hours to complete. In some cases, bone augmentation may be required first.
Wait for the bone to attach to the implant, which takes about 2-3 months.
When the bone is firmly attached to the implant, the dentist will take impressions of your mouth to make bridges, crowns, or dentures.
Then, place dental post and place bridges, crowns, or dentures.
How long does it take to make dental implants?
As for the duration of dental implants, it will take approximately 2-4 months to complete, depending on various factors, such as the quantity and density of the jawbone, that may require strengthening bones for the number of teeth to be implanted, etc.
Advantages of dental implants
Natural looking artificial teeth, The Orthodontist will design the shape and color of the crown on the implant to be as close to the color of your natural tooth.
Dental implants last for a long time. It is very durable. Root implants usually last 20 years or more, depending on the location of the root and the patient's oral health care. Including seeing the dentist regularly as scheduled.
Provides chewing efficiency similar to natural teeth
Can eat all types of food, no need to worry.
Can help with speaking and pronunciation.
Helps reduce the dissolution of the bone ridge that supports dentures.
Can clean teeth easily.
Dental implants do not have any side effects on the remaining teeth.
Although dental implants last a long time, and durable and strong, but gingivitis can occur if not properly cared for. Maintenance is therefore important. It can be done like caring for natural teeth. Using soft bristles to remove food particles and plaque. Plaque can cause dental implants to become loose. In addition, you should brush and floss your teeth properly, and have your dental implants checked regularly by your dentist.
Online Consultation
Free of Charge
---