What are the advantages of Invisalign, clear and removable braces?
Center : Dental Center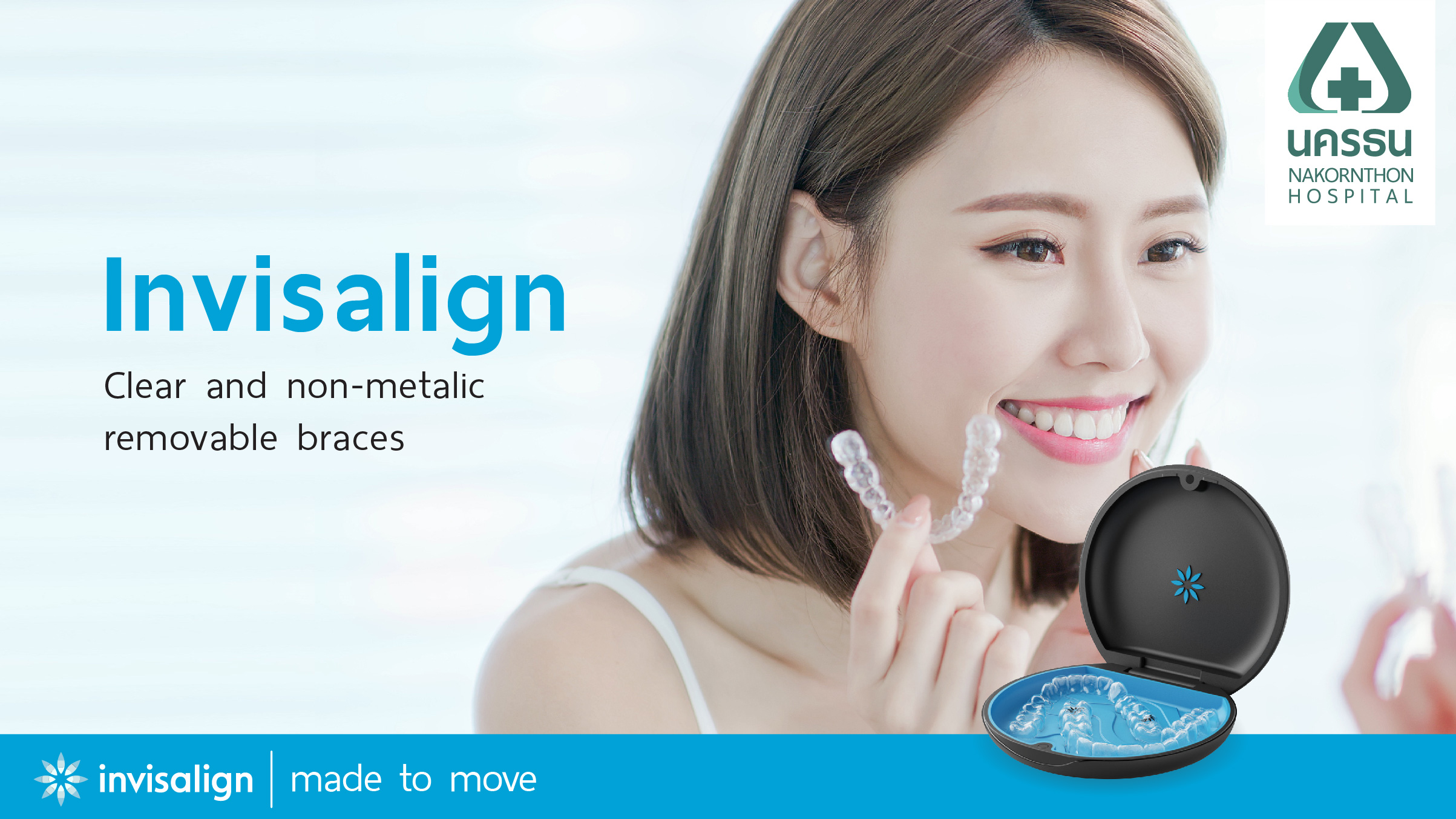 Choose to read by topic:
Invisalign® clear braces
These are custom braces made of special medical grade plastic to straighten your teeth. Straighten teeth to replace conventional metal braces, Invisalign provides precision alignment and better predictive outcomes using Clincheck® software technology to detect misalignment or malocclusion that needs immediate correction, such as overlapping teeth, crowded teeth, spaced teeth, underbite, overbite or upper teeth that are extremely protruded.
The dentist will formulate a treatment plan with the ClinCheck software, which can simulate tooth movement even with slight movements. It starts from the moment you put on your first braces, until the treatment is finish and get a new smile without guessing the result. No need to wait until the braces are done, results can be determined after the scan.
3D simulation allows dentists to personalize treatment for you
A programmable analysis calculates the optimal force for every movement of the tooth.
With this software and information from dentists every tooth movement is planned at the right time.
How does Invisalign® work?
Detailed diagnosis and treatment plan by orthodontists. The Orthodontists are responsible for setting the pattern of correct tooth movement, to allow 3D tooth movement image can actually happen in the mouth.
Produce only your unique piece in the world by computer Once the treatment plan has been created. Every tools for each patient will be created by a high-precision 3D computer system at an overseas laboratory.
Journey to a beautiful smile together with your specialist orthodontist. Start the process of moving teeth with Invisalign by an orthodontist instructing patients on how to use the tools. Attach additional equipment as appropriate, along with closely monitoring the treatment results
Advantages of Invisalign clear braces can lead a normal life.
Enjoy your favorite dishes as usual.
You can still play sports and do all your favorite activities.
There will be fewer emergencies that require you to return to the dentist. You don't have to worry about the braces falling off or the wires breaking anymore.
Invisalign clear aligners are virtually invisible to the naked eye. So, people will hardly know you're wearing braces.
Why choose Invisalign clear braces at Nakornthon Hospital Dental Center?
Not everyone can fit metal braces and if you are the one who thinks that orthodontic wire will make you cumbersome and annoyed, or with your professional role, you can't let other people see your braces. Or other braces on your teeth, "Invisalign" may be the answer for you. Because you can remove the "Invisalign" at any time, so you have the ultimate freedom to eat any of your favorite dishes, to brush or floss whenever. And completely clean as you wish "Invisalign" makes you smile beautiful and bright, no need to worry or hide that smile anymore.
Invisalign is not like a copy machine that anyone can operate the button and get the same result. Choosing an Invisalign Treatment specialist, you should get basic information about whether or not the dentist is a specialist orthodontist. By searching for names from the database of Royal College of Dental Hygienists or from the Association of Orthodontists of Thailand
Dr.Vudhibhong Laoamata and Dr.Pimsiri Kanpittaya are orthodontic specialists certified by the Dental Council of Thailand and the Association of Orthodontists of Thailand as well as being trained in clear Invisalign from both domestic and international.
In addition, the results of the Invisalign clear orthodontic treatment of Dr.Vudhibhong Laoamata were chosen to be posted in international gallery of Invisalign company, which is a gallery that selects only cases that successfully completed treatment from around the world , there are only 3 dentists who have been selected to enter International gallery.
Online Consultation
Free of Charge
---