Make big things "small" with gynecological laparoscopic surgery (MIS 3D)
Center : Women Health Center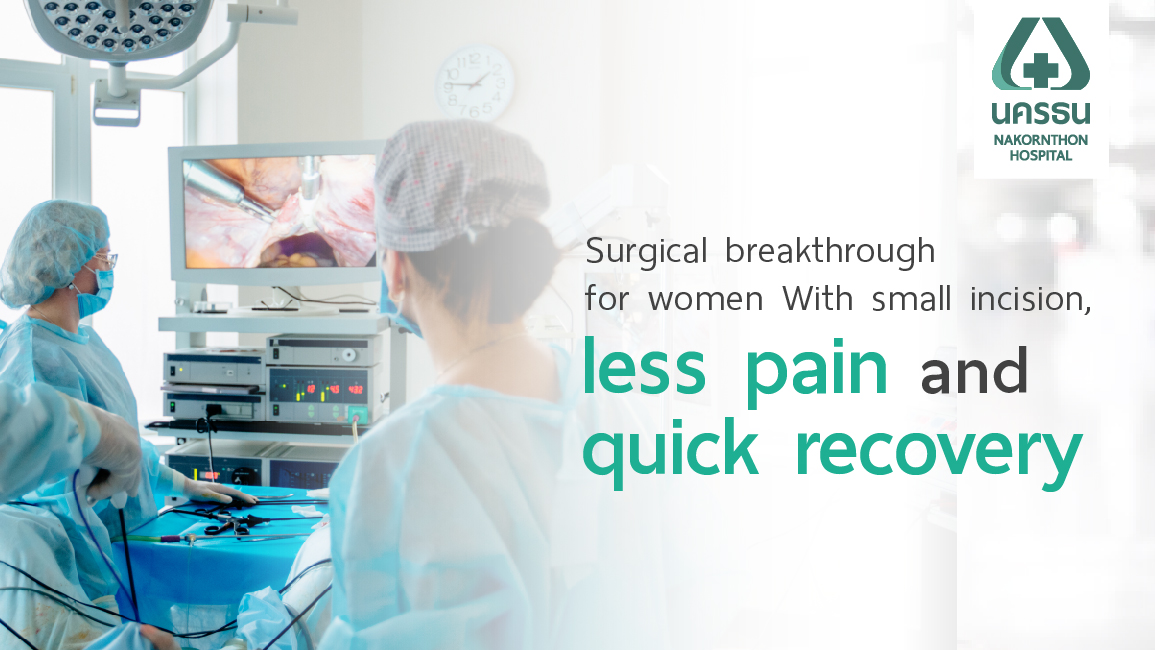 Today, there are many gynecological diseases that require hysterectomy and ovarian surgery. The surgical methods that we have been familiar with and used for a long time open abdominal surgery which is a standard surgical method. But may cause large lesions of 8-10 inches and take months to recover. Another method is vaginal hysterectomy, although this method will not cause scars on the abdomen but there are many limitations. But with the development of medical technology has adopted a method "Laparoscopic surgery (MIS)" is used in the surgical treatment of gynecological diseases to reduce the side effects of treatment, reduce injuries, and help the patient recover faster.
Gynecological laparoscopic surgery is divided into 2 types:
Laparoscopic surgery is the use of an endoscope for diagnosis and perform intra-abdominal surgery.
Hysteroscopic surgery in the uterus is the use of a camera to view abnormalities of the uterine cavity through the cervix for diagnosis. And performing surgery
The gynecological diseases that can be treated with laparoscopic surgery are as follows:
Myoma uteri
Ovarian tumor
Ovarian cyst
Chocolate cyst
Endometriosis grows in the wrong place. (Endometriosis)
Pelvic adhesion
Ectopic pregnancy
Tubal obstruction (Tubal obstruction)
Check the cause of infertility (Infertility)
Tumors or polyps in the uterine cavity (Polyp, myoma).
Uterine synechiae
Septate uterus
Female sterilization (Tubal Sterilization)
Perforated IUD
Hysterectomy for various causes (hysterectomy)
Early stage of cervical cancer
Early stage of Ovarian cancer
Endometrial cancer
Ovarian cyst tumors Non-cancerous types or large chocolate cysts, can be performed through small incision with laparoscopic surgery
A large myomectomy, which is solid tissue Laparoscopic surgery can be performed using a special instrument that cuts the biopsy into small pieces. Removed through a small incision and closed through the camera
Including cases where there are indications for Laparoscopic hysterectomy surgery, there are methods to choose from, such as total hysterectomy. The uterus is removed for biopsy or Vaginal hysterectomy and stitched via endoscopy.
Advantages of gynecological laparoscopic surgery
Small surgical incision, about 0.5-1.0 cm in size, about 3-4 incisions
Very little pain due to the trauma from surgery is less than traditional surgery
Only stay in the hospital for 1-2 days
Quick recovery and can return to work or daily activities in 5-10 days
Reduce the chance of fibrosis from surgery
Reduce the risk of complications from surgical wounds, such as inflammatory wounds, infected wounds, pus etc
However, in view of taking care of yourself after the laparoscopic surgery. You will be able to perform light activities within 3-5 days after surgery. But exercise should wait a month before surgery to ensure that you are completely healed.
Article of Women Health Center