Osteoporosis Don't wait for the line to start preventing it at a young age.
Center : Orthopedics Center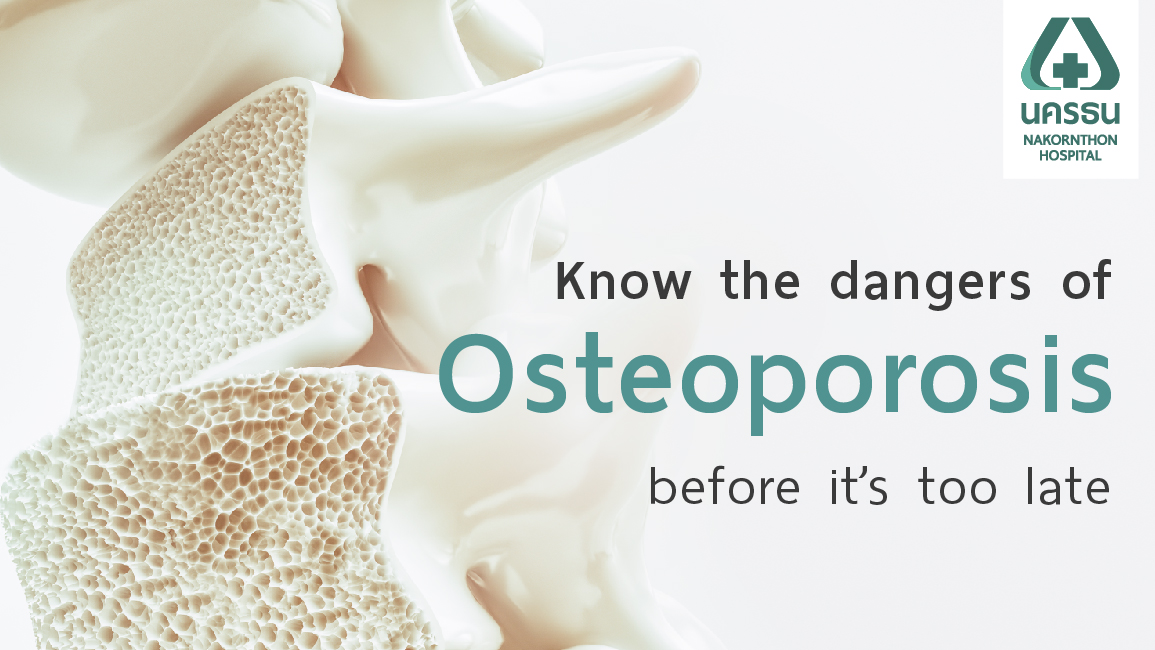 As we age our physical health is reduced. Especially "Bone strength" because elderly people have decreased hormonal functions. Making less movement, but some elderly people may have back pain, humpback, height decreases, some may even be easily fractured caused by a small accident such as falls, etc. Therefore, if we do not want to get osteoporosis when we get older we must know how to care for and protect our bones from now on.
Get to know Osteoporosis
Osteoporosis is a bone disorder that weakens bones. This makes people vulnerable to bone fractures, The bones are composed of a combination of bone mineral density and bone quality.
Bone mineral density can be measured with a bone densitometer. Which currently detects bone mineral density using x-rays, which is considered a globally recognized standard tool.
Bone quality consists of 4 main features:
Bone micro architecture refers to the microstructure within the bone. Which has the characteristics of weaving the net from this interweaving, making it able to greatly bear the compressive pressure.
Bone turnover
Bone breakdown (Damage accumulation)
Bone mineralization, bone mineralization processes. There will be both breakdown and bone formation. By the final stage of bone formation is the mineralization of bone.
Diagnosis of Osteoporosis
Normal bone has bone mass is within 1 standard deviation under the mean of young women with the highest bone mass.
Osteopenia is the bone whose bone mass is below the mean of young women with the highest bone mass 1-2.5 or below the standard deviation.
Osteoporosis has a bone mass below the mean of young women with the highest bone mass 2.5 or less of the standard deviation.
Severe or established osteoporosis whose bone mass is below the mean of young women whose maximum bone mass is less than 2.5 times the standard deviation with fractures.

The major factors affecting the condition of the bone are
Nutrition is essentially needed to build bone mass.
Lifestyle, exercising regularly will stimulate the accumulation of bone mass.
Avoid smoking and drinking alcoholic beverages.
Normal hormonal state Especially in women
How does nutrition help prevent osteoporosis?
Nutritional factors are very important in preventing osteoporosis. If starting with a bone that has no strength since youth it will be more vulnerable to this disease. It is important to prevent good protection from the age of bone mass accumulation. Which is during childhood to adolescence.
There is currently evidence to show that calcium intake from childhood to adolescence is important for the ability to maximize bone mass, and affects bone strength in adulthood.
For Thai people, the recommended daily calcium intake has been set. Food sources of calcium good food sources of calcium include milk and dairy products. Which will get calcium in both quantity and quality The body can absorb calcium better from milk than other foods. A box of fresh milk, approximately 200 ml, contains approximately 230 mg of calcium. Some adults who are afraid that drinking milk will cause weight gain choose to drink skim milk.
High Calcium Bone Support
There are several guidelines for proper calcium intake, and if you can drink milk, it is advisable to drink milk regularly. Children and adolescents should consume 2-3 cups of milk per day. Adults and elderly people consume 1-2 cups of milk per day to get about 50 percent of the required amount of calcium. If unable to drink milk as recommended, you can have it from other food sources, like meat, fish, and other aquatic animals and small animals and green leafy vegetables Especially kale, bok choy, green radish.
Prevention of osteoporosis
Maximize the body's potential to accumulate bone mass especially during childhood and adolescence
Slowing down the rate of bone loss in middle and old age.
Correct exercise can help prevent the development of osteoporosis. Since the contracted muscle creates a strain on the bone, the proper stress activates the cells within the bone. Regulate bone mass and internal structure (Bone configuration) such as walking, running, cycling. boxing, dance, etc. with a period And the appropriate frequency The same is true for regular aerobic exercise, ie, 20-30 minutes a day, 3-5 days a week. Swimming or walking in the water, it can stimulate bone formation to some. But will not be as effective as weighted exercises, musculoskeletal exercise, and balance training to increase muscle mass
People with osteoporosis as they get older are more vulnerable to falling. Some people have broken bones, lose confidence in standing, others refuse to walk because of fear of falling Therefore, the assessment of the risk factors for falling is very important.
Also, the ability in areas that affect balance, such as standing up, sitting down in a chair, should be assessed. Self-mobility and turning which is a gesture that makes it easy to fall In terms of rehabilitation, it focuses on strengthening the arm and leg muscles, especially the muscles that stretch the knee and tilting muscles.
Consult Online
---
Article of Orthopedics Center