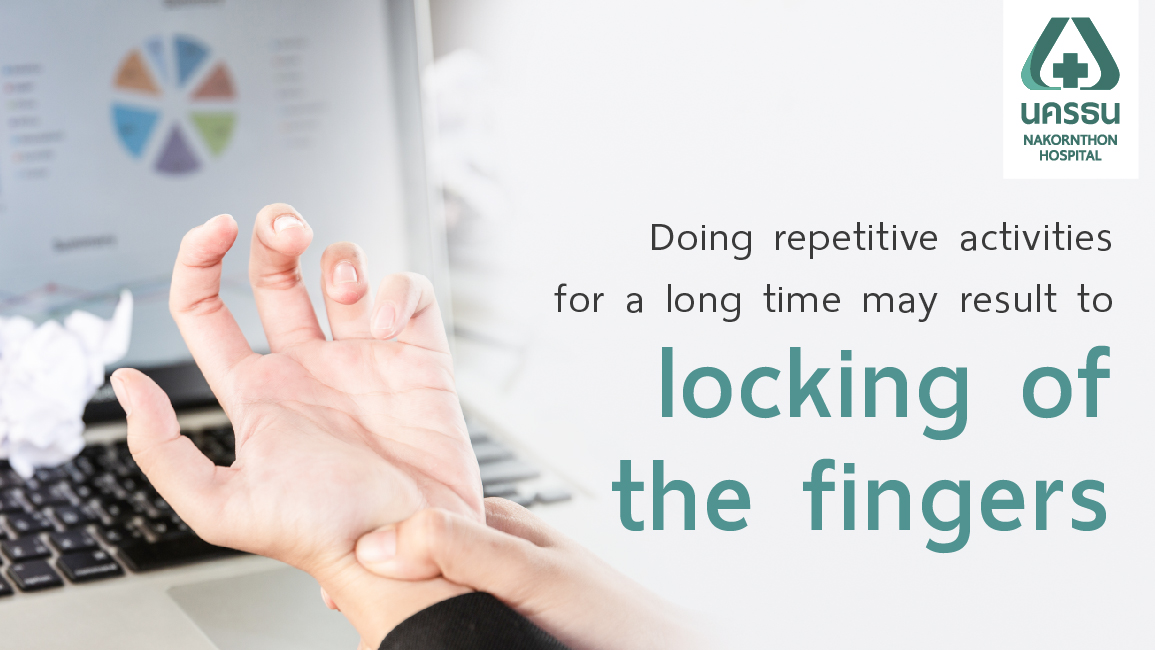 Trigger finger is a common symptom and can be found in both genders and age. Symptoms of a locked trigger finger are difficult. Many people are likely to know they have a finger lock, causing pain and suffering to one extent.
Known locking finger syndrome
Finger locking syndrome is a disorder in which the fingers are unable to bend or stretch normally. It can involve one finger or several fingers. Symptoms are, pain begins at the base of that finger. The fingers are stiff during movement. Slipping or recoiling in and out when bending or stretching, later on, the fingers are left bent or clenched. These fingers will not stretch out on their own, you will need the other hand to put it back into position. There is a pain when pulling out or stretching, but when you try to bend your fingers, they will not bend down. If it is left in that position the finger may become bent, swollen, tilted like the fingers crossed together If left untreated, the joint may become rigid and the joint may not be stretched out and unable to move, which can cripple the hand.
Causes of finger locking
Doing repetitive activities for a long time, such as playing press games, knitting, crocheting, carrying plastic bags by the fingers regularly, continuous steering while cooking for a long time, cutting hair, typing and writing.
All of them result in a finger lock. Because we would not be able to stop activities or stop working, prevention is the best thing. If you have the symptoms mentioned above, reasons for locking of the fingers should be minimized or avoided, such as when holding objects tightly for extended periods. If there is stiffness in the hand occurs, apply heat or cold to it. But if there is inflammation or swelling, apply a cold compress to relieve symptoms and should consult with a physiotherapist to treat the symptoms so they do not worsen.
Remedy
Finger Lock Syndrome treatment depends on the symptoms and severity of the disease. In the first phase, if it not severe harsh taking anti-inflammatory drugs, hot baths, physical therapy by using deep sensation such as ultrasound can also help reduce inflammation and the adhesion of the tendon to the tendon.
But in more severe cases, you should see a doctor the doctor will provide treatment by using anti-inflammatory drugs or possibly in combination with steroid injections, such as drug ligament sheaths to reduce inflammation on the constriction of the tendon makes symptoms get better in 2-3 days after injection, but if the membrane is very thick or difficult to flex and stretch your fingers, even stuck or locked, injections may not help.
Injections may get better in as little as a week or months and soon be back for another injection but should not have more than 2 injections, as this can cause tendon stagnation or looseness In addition to not being useful In case of severe locking, surgery is the best way because it will open down to cut the tendon belt and ligament sheath attached to the passage of the ligament so that it can be separated.
Surgery has the following advantages. It cures the disease and the treatment at the root cause, but the procedure will involve a scar on the palm due to open surgery and takes about 2 weeks for the wound to heal.
In conclusion, trigger finger is a common symptom and caused by a lot of problems in work and daily life. Although there are many treatments and preventions it is better to avoid grabbing on to things or engaging in any activity that is repetitive for a long time and should know how to take care of it early.
Consult Online
---
Article of Orthopedics Center