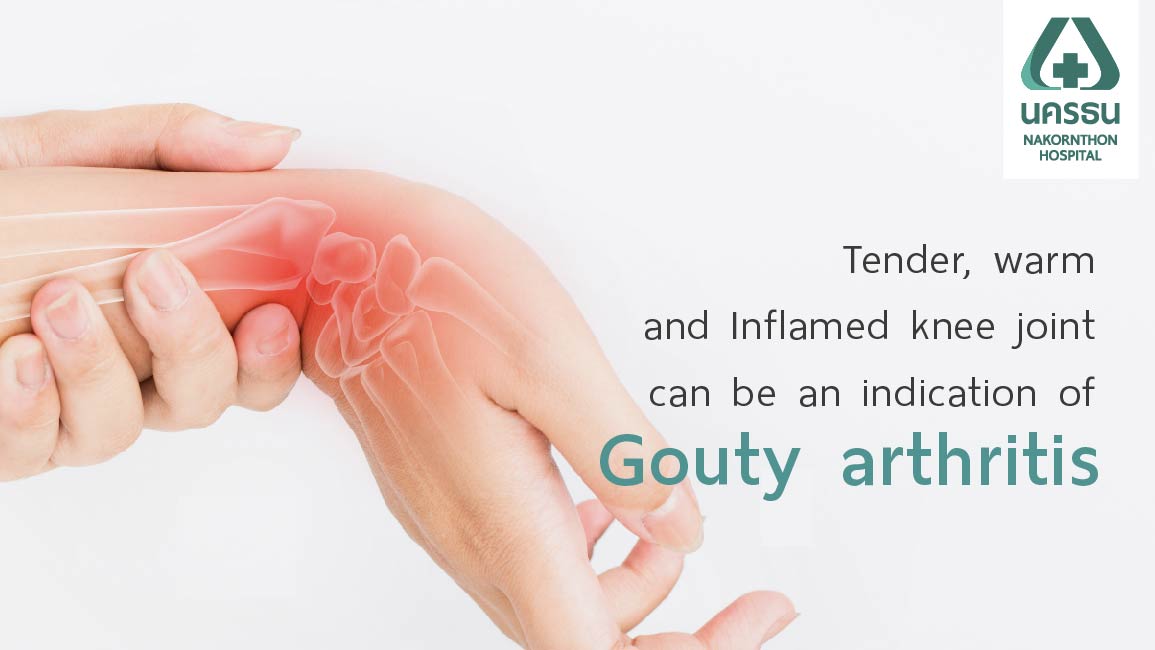 Gout (GOUT) is a disease caused by an excess of uric acid build-up in the body. Then crystallized into the form of urate. Urate crystals cause inflammation which is the main symptoms are arthritis. Also, some people may have nodules, nephritis and urinary stones.
What are the symptoms of gout?
Most of the disease occurs in men aged 40 and over (some may be younger than 40, but very rare), with arthritis, which is rapid and severe. It often affects the ankle, big toe. and knees, and also inflamed joints are warm and swollen. Walking may increase pain or may not be able to walk at all. In most cases, the inflammation will go away within a week. When it is healed, it may recur again. Causing recurrent arthritis, the first stage is often irregular, but when you leave it without treatment it will become more frequent. Until sometime the areas that were not affected may be affected. Many things can cause arthritis, such as drinking beer and heavy exercising. Eating foods containing purine (Which when it enters the body will be converted to uric acid), such as the organ or animal. Exposure to certain medications, such as certain diuretics medicines to treat gout itself can cause arthritis.
Some people may develop chronic kidney failure. This is a result of factors including urate crystals, gallstones, high blood pressure, and kidney infection. Treatment can prevent kidney failure. People with a high uric acid level in their blood. Without any other abnormality, gout is not considered and there is no need to take medicine to reduce uric acid, but be aware that there is a possibility of gout in the future.
Diagnosis
To Diagnose gout accurately is to detect urate crystals in the synovial fluid, , but in some people whose disease is obvious, it may be diagnosed based on the history of arthritis associated with symptoms, sex, and age of the patient. Without having to detect such crystals it may be understood that when arthritis A high uric acid level in the blood was found to have gout. Arthritis can be caused by other causes. Additionally, in some people with gout, it was found that the uric acid in the blood was not elevated while having arthritis, so the blood uric acid test could be a distraction as well. If not carefully considered.
Gout Treatment Guidelines
The principle of treatment for gout is to reduce uric acid levels in the body and prevent relapse of joint inflammation.
The general treatment is to refrain from drinking alcohol. Avoid staying up late Or stressful conditions in obese individuals should lose weight, exercise regularly, treat other medical conditions such as high blood pressure, diabetes, drink plenty of water to increase the excretion of uric acid from the body, and avoid eating foods that are high in purine.
Diet is another part of the treatment. Diet will decrease uric acid in the blood. But not enough Therefore, it is necessary to use medication. A strict diet is essential in people with poor kidneys. When taking the medication until the uric acid level in the blood is low, there may not be much need for a diet.
Foods that are high in purines
(More than 150 mg / 100g food)
Should abstain from the following foods Medium purine foods
(50-150mg / 100g food)
The following foods should be avoided.
Medium purine foods
(50-150mg / 100g food)
The following foods should be avoided.


Pancreas
All kinds of animal offal
Fish roe
Shellfish
Anchovy
Organic fish
Catfish
Canned sardines
Cucumber
Sheehae Shrimp
Cow brain
Soup cubes
Beef Salad Dressing
Black Bean
Red beans
Green beans
Soybeans

Pork
Beef
Lamb
Red Snapper
Squid
Crab
Cassia Leaves
Sato
Oatmeal
spinach
Peas
Bamboo shoots
Drug therapy
Drug therapy, including drugs for the treatment of arthritis, the doctor may consider medicines to prevent arthritis to lower uric acid and will consider mainly by looking at the current condition, but the long-term treatment is medicines to reduce uric acid, which must be taken forever. Effective treatment will not cause arthritis suffering The lump under the skin, if present, will collapse and will stop the kidney from further damage.
Stage with arthritis
Should reduce their weight on the affected joints. Use a hot compress or soak the affected area. Avoid hard massages or tight constraints. Take anti-inflammatory drugs or colchicine. (colchicines) as directed by your doctor, avoid eating foods containing aspirin or steroids by yourself, as they can cause side effects.
Prevention of recurrent arthritis
By taking medications prescribed by doctors regularly, reduces the factors thought to trigger recurrence, follow the doctor's instructions.

Consult Online
---
Article of Orthopedics Center