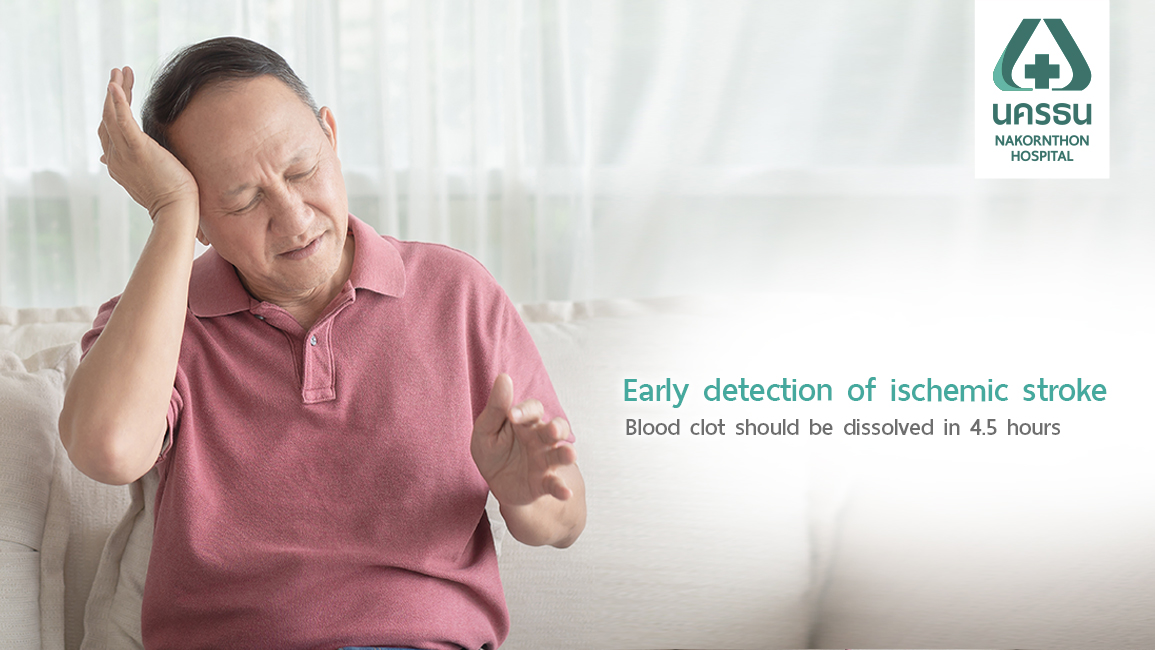 Ischemic stroke occurs when the blood supply to different parts of the brain is interrupted due to a blockage in an artery that supplies blood to the brain. Blood flow which brings oxygen and nutrients to brain cells, when blocked the brain cells will begin to die. As a result, the brain may lose its function and cause paralysis or death. If you see someone in the house or an adult having weakness half of their face or body, numb limbs, the mouth or face becomes distorted. This maybe a symptom of stroke and needs ti be rushed to the hospital as soon as possible for timely treatment with anti-coagulant injections.
Medication to dissolve blood clots
A drug dissolving blood clots (rtPA) that breaks down blood clots that blocks the blood flow, this will open the way for blood to flow to the brain normally and allow blood and oxygen to flow again to areas where the clot was blocked and prevent the damage to the affected tissue or organ.
Who is suitable for treatment with blood clotting agents?
Giving medications to dissolve blood clots is used to treat patients with acute vascular thrombosis over 18 years of age with brain ischemia, with a size less than one-third of the cerebral hemispheres. Also, the patient must be brought to the hospital not later than 4.5 hours from the onset of symptoms. Importantly, there are no contraindications for the drug to dissolve blood clots. When the patient or relatives see more benefits than disadvantages and decides to treat this way, the doctor will inject blood clots agent into the vein. To dissolve blood clots or fat clots that blocks blood vessels, as a result, the blocked arteries are opened and normal blood flow to the brain.
Advantages of drug to dissolve blood clots
Recovery of ischemic brain tissue
Reduce the rate of paralysis
Reduce the mortality rate of patients with thromboembolism in cerebrovascular cases
Contraindications for drug dissolving blood clots
Patients with ischemic stroke and embolism within 4.5 hours of ischemic stroke, not everyone can be treated with thrombolytic injections. Must consider medical suitability and in cases where the symptoms of ischemic stroke have an unknown onset time or post-waking symptoms. Symptoms of bleeding under the meninges, bleeding in the gastrointestinal or urinary tract within 21 days, history of major surgery within 14 days, very low blood sugar levels. High blood pressure, seizures, liver failure, blood clotting disorders. A serious accident to the head with bleeding or broken bones from physical examination changes in the early stages of large ischemic stroke, such as cerebral edema, among others. Anti-coagulants should not be given at any case that is likely to bleed easily in vital organs and cannot stop the bleeding.
Check for warning signs of ischemic stroke and stroke
If the patient has a stroke there are warning signs of acute ischemic stroke. The patient should be brought to the hospital immediately. Which has symptoms that can be observed as follows
Weak limbs in half or both sides
Slurred speech
Crooked mouth
Hearing impaired or not understanding
Dizziness with staggered walks Not poised
Blurred vision, blurred vision
Sudden unconsciousness
For people with ischemic stroke and embolism that has been treated by doctors until after the crisis, should strictly follow the doctor's instructions. Including taking medications as prescribed by the doctor regularly Do not adjust the dose and stop taking medications, which may cause complications or recurrent stroke.
Online Consultation
Free of Charge
---
Article of Neurology Center