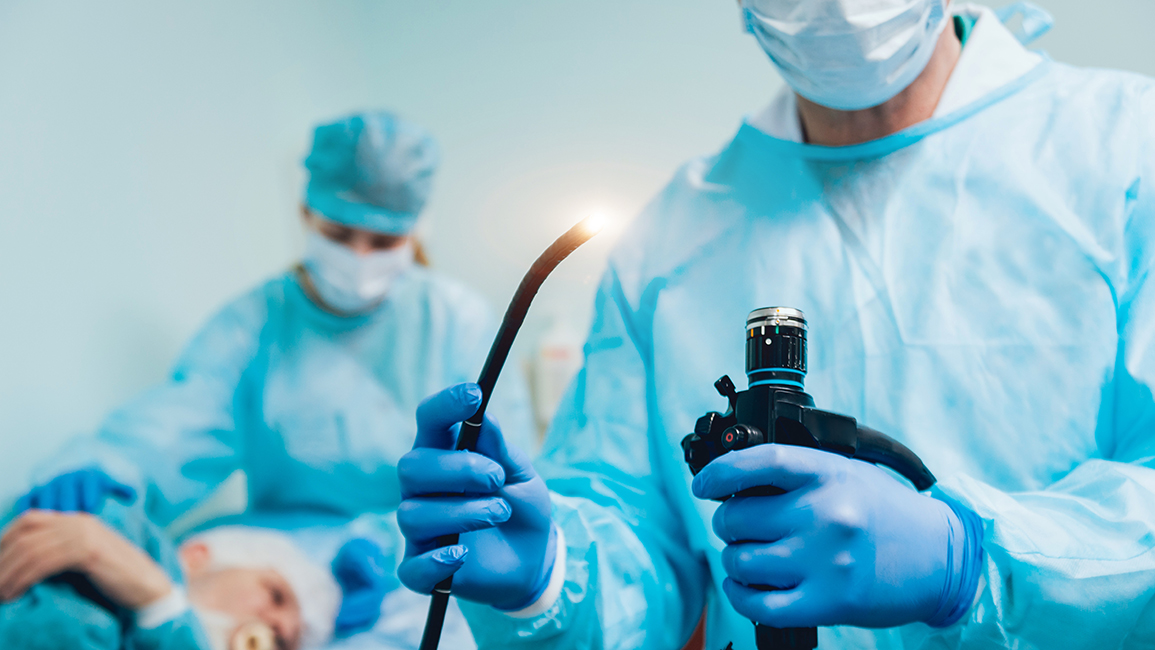 What is ERCP?
Endoscopic Retrograde Cholangiopancreatography (ERCP) is an endoscopic procedure to treat problems in the liver, gallbladder, bile ducts, and pancreas, this involves injecting a contrast medium to give a clearer visualization of the area, which helps in diagnosis and the treatment of unexplained abdominal pain and a condition known as "jaundice" (yellowing of the eyes and skin) caused by obstructed bile ducts abdominal pain, due to abnormalities of the biliary tract and pancreas.
ERCP purpose
To treat diseases of the biliary tract, including

to extract stones from the biliary tract
To place bile drainage tubes into the small intestine (Endoprosthesis) or through external (Endoscopic Nasolbiliary drainage)
To place the drain pipe above the bile leakage
to cut/open or enlarged a sphincter in case of stenosis (Papillary Stenosis)

For the treatment of pancreatic disease, including

To extract gallstones from the pancreatic duct
To place the drain tube above the leaky joint (Pancreatic Fistula)
To place a Pancreatic Fistula drain tube in case of blockage
ERCP Benefits
ERCP is useful in diagnosis and treatment of diseases related to the bile duct and pancreas, for example, if there is a blockage in the bile duct from stones, tumors, fibrosis or narrowing of the bile duct from other causes, or blockage of the pancreatic duct due to stones, especially in the case of pancreatitis due to blockage in the bile duct stones in the bile duct and pancreatic ducts.
ERCP Risks and Side Effects
General risks

A sore throat caused by camera friction
Throat pain caused by local anesthesia
Bloating is a common symptom because the doctor has to blow air into the stomach and intestines during endoscopy, but this is temporary and will improve when air is expelled

Specific Risk

Acute pancreatitis 24 hours after endoscopy, patients experience abdominal pain, nausea, vomiting, and high pancreatic enzymes. The chance of developing acute pancreatitis is approximately 3-5%. The major risk factor is on female patients and young patients
The duodenum perforation 1% chance of occurrence of duodenal hemorrhage due to the incision on the bile duct
Bleeding may occur immediately or after 24 hours post endoscopy. Patients taking blood-thinning drugs have an increased risk of duodenal hemorrhage. The chance of developing duodenal bleeding is about 2.5 -5%
Infection after laparoscopy, patients may experience abdominal pain and fever, most often in patients with intestinal obstruction of the bile duct. And the drainage is as good as it should be and the risk of infection is 5 -10%, Antibiotics are usually prescribed to reduce the likelihood of infection before endoscopy, which can significantly reduce infection susceptibility
How to Prepare for ERCP
Patients must consult with a physician about any underlying diseases. Such as high blood pressure, heart disease, diabetes, and asthma, etc. For the doctor to plan the treatment of the patient
You must inform your doctor about your history of allergy to drugs, seafood, or radiation contrast agents. If patients are allergic to food or contrast agents, The patient will be required to use a special color opaque substance
In the case of patients taking medications for specific diseases, thrombolytic group, the patient must consult the doctor who prescribed the medication to consider replacing or stopping the medication before treatment to prevent bleeding
Abstain from water and food at least 6-8 hours before the examination (In case of having to do in the afternoon, eat liquid diet at 6:00 AM and then abstain from food and water)
In case the patient wears a full or partial denture, it should be removed before the endoscopy, or if the patient has loose teeth, inform your doctor before the procedure to prevent accidents that may occur if the tooth falls off
There should be direct relatives to accompany the patient. Since most patients cannot sign a consent form and can't get advice from a doctor or if the doctor wants to know about the patient's symptoms directly from the patient's relatives
ERCP Procedure
ERCP is a combination of endoscopy and x-ray in one process. The procedures goes as follows:
The doctor will insert the endoscope through your mouth, stomach to your bile duct in the small intestine.
Contrast agent is injected into your bile duct, an x-ray is used to see abnormality in your bile duct and pancreatic duct.
If the doctor found gallstones in your bile duct, He may possibly open your bile duct to extract the gallstones by electric cautery.
Normally, the surgery is healed within 1 week. However, if there is a constriction, a tube will be inserted to drain the bile to your intestine.
What to Expect After ERCP
All patients are required to stay in the hospital for at least 24 hours after the procedure or at the physicians' discretion to observe any abnormal symptoms such as severe abdominal pain, nausea, vomiting, or a high fever after the procedure
Make the patient rest in bed for about 60 minutes or until the patient wakes up and can go back to the room
Generally, there will be no water and food intake for at least 6-8 hours after endoscopic examination of the bile duct and pancreatic ducts or until the doctor is certain that the patient has no complications from acute pancreatitis or infection in the bile ducts. Starting with a sip of water if there is no abdominal pain, the food will be continued in order
Patients should come to see a doctor according to the scheduled appointment, especially in cases where the biopsy is performed
You do not have to wait for your scheduled appointment, come to the hospital immediately if you have the following symptoms

Fever or chills
Redness, swelling, or bleeding
Abdominal pain, nausea, and vomiting
Dark, tarry, or bloody stools
Difficulty swallowing
Aggravated throat or chest pain
FAQ Related to ERCP
How long is ERCP procedure recovery time?
After ERCP you should lay down on the bed around 60 minutes or until you feel fully awake and moved to a normal room. After the treatment, patients are required to stay in the hospital at least 24 hrs or depending on the doctor's opinion to observe any abnormalities such as: congestion, nausea, vomiting, high fever. You should avoid eating hot food, should have soft and mild taste food for around 2-3 days. After the treatment you can feel congestion but it will get better through time.
ERCP Conclusion
Biliary tract and pancreas diseases can be prevented by taking good care of your health. You should reduce fried and oiled food and increase vegetable and fish. ERCP should be provided by specialist and well experienced doctor in order to get an effective result. Moreover, getting annual health check-up is very important. If you have any abnormality, should come to the hospital immediately before the disease get worse or complication occurs.
Why choose Nakornthon Hospital?
Our Gastrointestinal and Liver Center at Nakornthon Hospital is a specialized medical center which delivers the best treatment for Intestinal and liver diseases and the best quality services to patients. With therapeutic technology and standardize equipment, our physician and well-trained expertise are here to provide personalized care at all time. Gastrointestinal and Liver Center, Nakornthon Hospital can provide one stop service aside with many facilities such as endoscope service, bowel preparation room, recovery room. With personalized care, we try our best effort to keep our patient safety as priority. The diagnosis and treatment have performed to minimize the risk factors for complication and reduce the length of hospital stays.
Online Consultation
---
Article of Gastrointestinal and Liver Center