Nakornthon Absolute Spine Care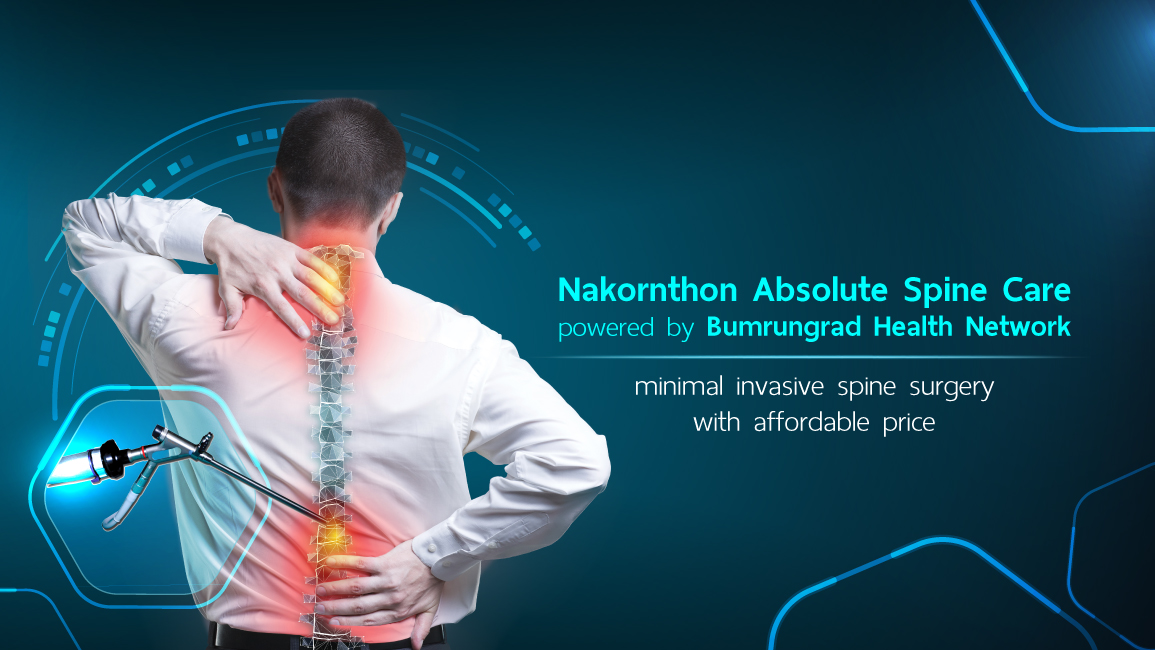 Nakornthon Absolute Spine Care
Powered by Bumrungrad Health Network
---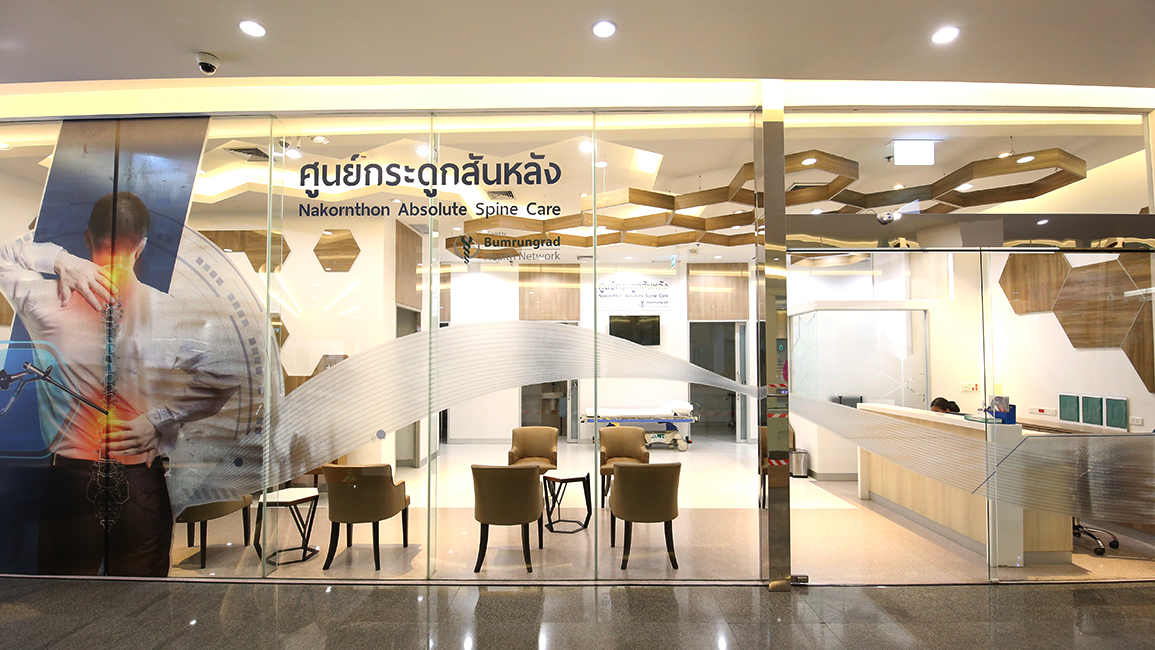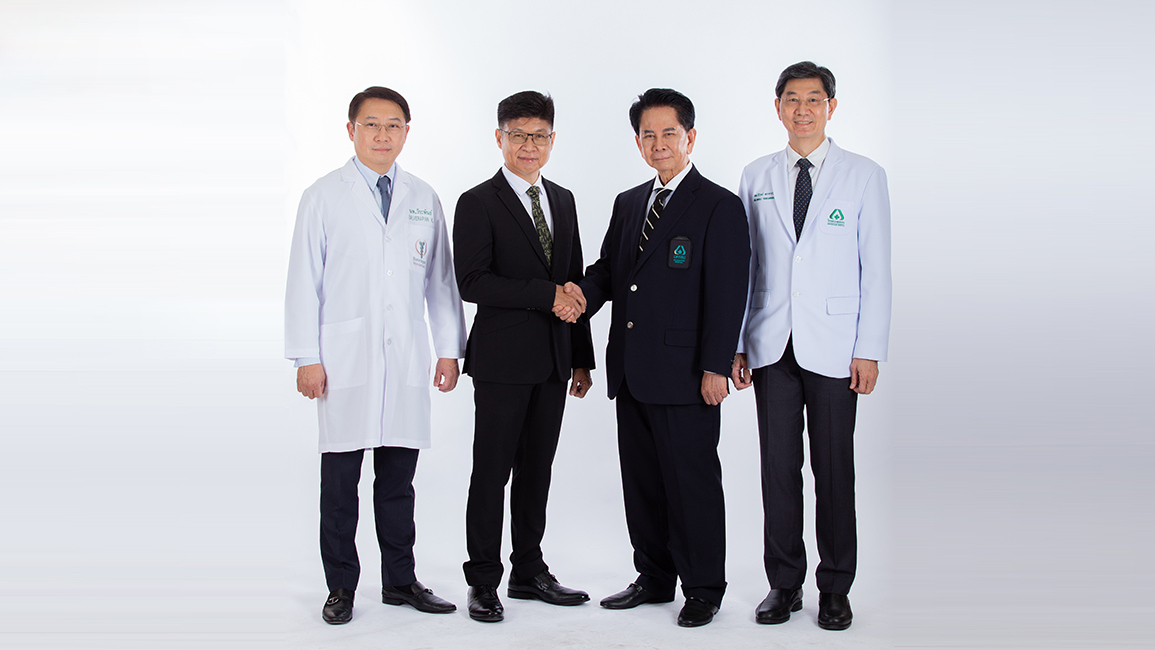 We provide examination and treatment services for patients with spinal disorders, spinal cord and nerve with a thorough diagnosis to find the actual cause of the disease, to consider the best treatment for spinal disease suitable for each patient. Most of the patients will have back pain radiating to the leg or neck pain with arm symptoms, along with numbness or muscle weakness, etc.
"
To deliver absolute spine solution
within reach by the team utilizing
minimally-invasive technology
"
---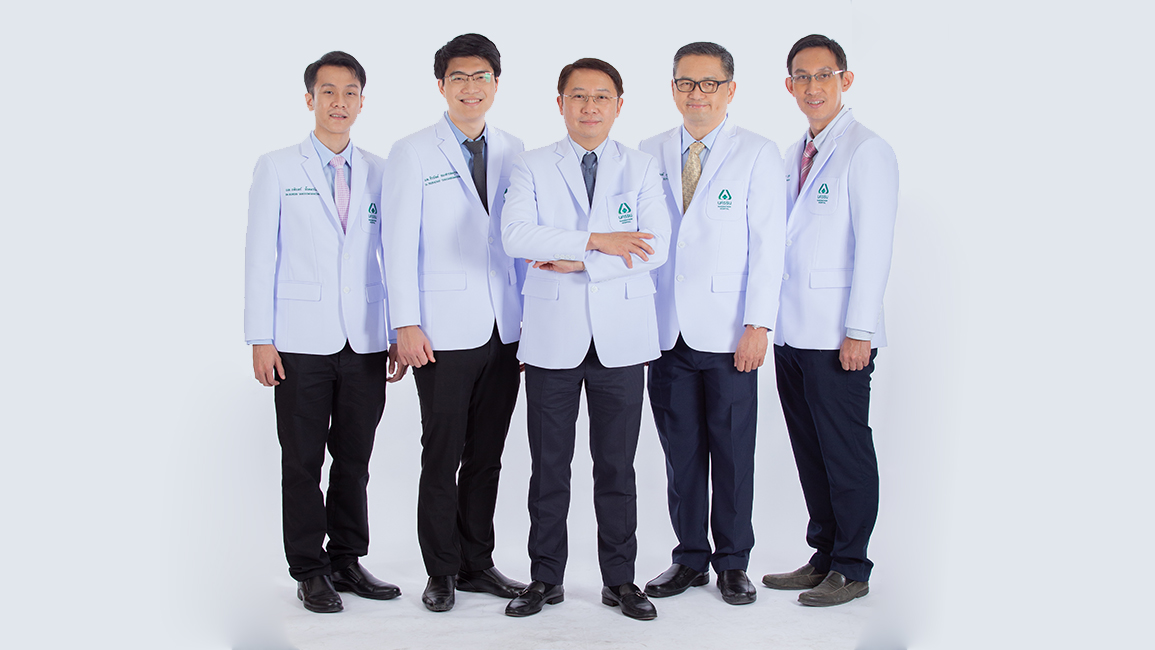 Nakornthon Absolute Spine Care: Powered by Bumrungrad Health Networkwill contemplate the best treatment for spinal disease appropriate for each patient, whether it is a palliative treatment by medication, physical therapy, until treated with surgery. This is "Minimally Invasive Spine Surgery" a approach to minimize injuries and faster recovery. A surgical technique using an endoscope or microscope by a team of doctors specializing in treating spinal diseases through neurosurgeons, orthopedic surgeons, physiatrists, physical therapists, internist, anesthesiologists and a multidisciplinary team of specializations with over 10 years of spine treatment experience and to more than 10,000 patients.
Our extensive experience and world-class team attract many Thai and international patients, all of whom receive an exceptional standard of care and treatment throughout their time with us. Whether you are suffering from a condition that requires major spine surgery or symptoms that can be alleviated with a spinal intervention, our team will make sure that you are provided with the most effective treatment available, along with all the care and support you need.
First-Class Spine Care for Spinal Trauma and Spinal Disorders
We offer a full range of treatments for spinal cord and nerve damage from trauma, and for a wide variety of chronic spinal disorders, including disc degeneration, cervical disc herniation, cervical spondylosis, scoliosis and lumbar intervertebral disc herniation. Whatever the nature of your condition, you can look forward to expert care and support from our team of spine care specialists, from the moment you contact us, through to the successful conclusion of your treatment.
Our spinal specialists have many years of experience in their chosen field. All of the doctors in our team are committed to ensuring that every patient is treated sympathetically and offered the very best surgical and non-surgical treatment options for their specific conditions. With procedures such as Transforaminal Lumbar Interbody Fusion (TLIF), Oblique Lumbarinterbody Fusion (OLIF), anterior cervical discectomy and fusion, endoscopic spine surgery and cervical disc replacement surgery performed on a regular basis in our operating theaters, our surgeons have the knowledge and expertise to ensure the best possible outcome in all cases.
Caring, Personal Treatment Delivered by Considerate Professionals
Many patients arrive at our center with similar symptoms, including lower back pain that radiates down both legs, lower back pain radiating to the front of thighs and neck pain with arm symptoms. But each case is unique as far as we are concerned, and each patient is offered a personalized treatment plan that is designed specifically for their needs. Our ability to deliver treatment options that are tailored to meet the needs of individuals is one of the reasons we are the spine care center of choice for so many back pain sufferers in Thailand and around the world.
If you are currently in Thailand and in need of a spinal intervention or spine surgery, please call to make an appointment whenever convenient. If you're planning to visit in the near future, you can email us if you prefer, and we'll arrange an appointment that fits in with your travel schedule.
"
Provides advanced, comprehensive medical treatment for
patients with spinal disorders, spinal cord and nerve
"
---
Technology for diagnosis and treatments
In addition to the use of advanced technology, to diagnose diseases in the spine such as a bone mineral density detector (DXA Scan), magnetic resonance tomography (MRI) and the like. Nakornthon Absolute Spine Care: Powered by Bumrungrad Health Network is equipped with modern techniques for minimal invasive surgery, less pain and quick recovery. It is a treatment method for Minimally Invasive Spine Surgery where in the surgical incision smaller. The patient is less traumatized, reduce various disadvantages caused by large wounds makes the surgery safer for the patient. The treatments provided are as follows:
Spinal fusion
Kyphoplasty
Spinal interventions (Read more)
Percutaneous Transforaminal Lumbar Interbody Fusion (Read more)
Anterior Cervical Discectomy and Fusion (ACDF) (Read more)
Miniopen-ALIF (Anterior Lumbar Interbody Fusion)
Endoscopic Decompression
Endoscopic Spine Surgery
Laminectomy
Endoscopic Spine Surgery for Lumbar and Cervical Disc Herniation (Read more)
Microdiscectomy
Pre and post care treatment for good quality of life and reduce the chance of recurrence
Educate patients before undergoing surgery to give them an understanding of the treatment process during and after surgery. Including muscle development training by a physical therapist, to prepare the patient before undergoing surgery as well as giving knowledge during hospitalization and before going home, by giving advice on movements limitations after surgery, which is consistent with the daily life of the patient to return to have a good quality of life and reduce the chance of recurrence.

Business hours
Open daily Monday-Sunday from 08.00-20.00 hrs
Location
Nakornthon Absolute Spine Care, Nakornthon Hospital Fl.2
Contact
Tel. 0-2450-9999 ext. 1148-1149
Medical team of Nakornthon Absolute Spine Care