Nakornthon Absolute Spine Care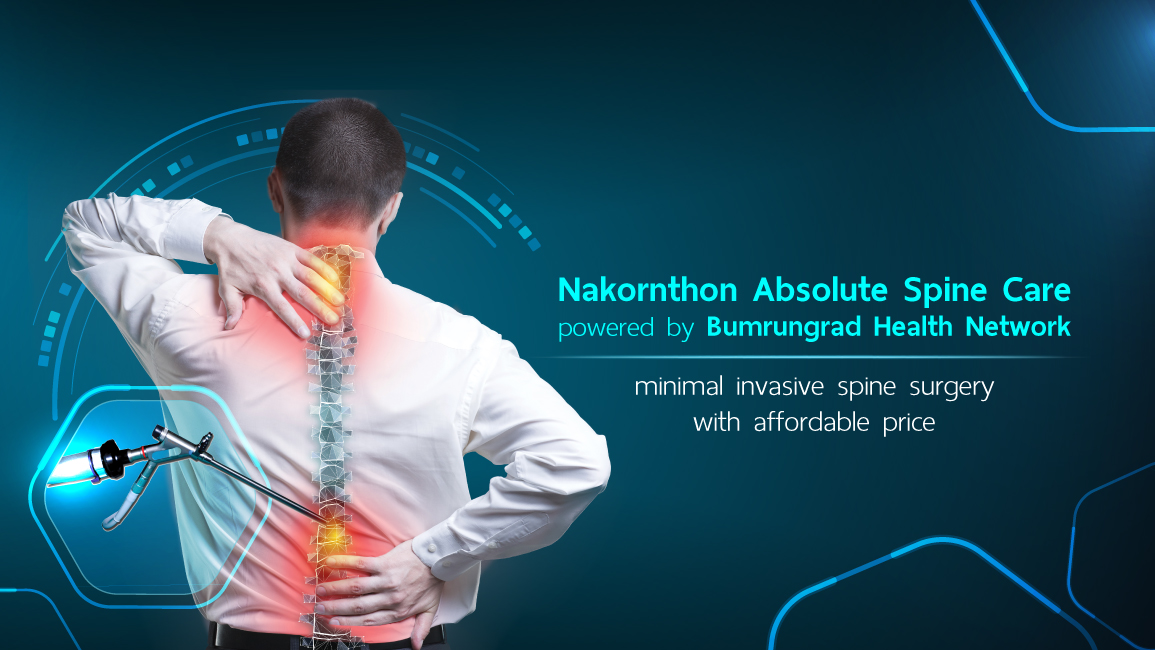 Spine Center, Nakornthon Hospital,
in Collaboration with
"Bumrungrad Health Network"
---
It is a new form of medical service by benefiting from medical skills, experienced professionals and technologies of Bumrungrad Hospital accumulated for more than 40 years, collaborating with Nakornthon Hospital on the foundation of Spine Center,a specialty service for patients suffering from spine disorders, spinal cord disorders and spinal nerve disorders. In addition, consultation is provided by a team of specialists and interdisplinarians to identify an appropriate method for treatment by applying advanced medical devices and technologies, focusing on treatment outcomes, patients' quality of life and affordable treatments.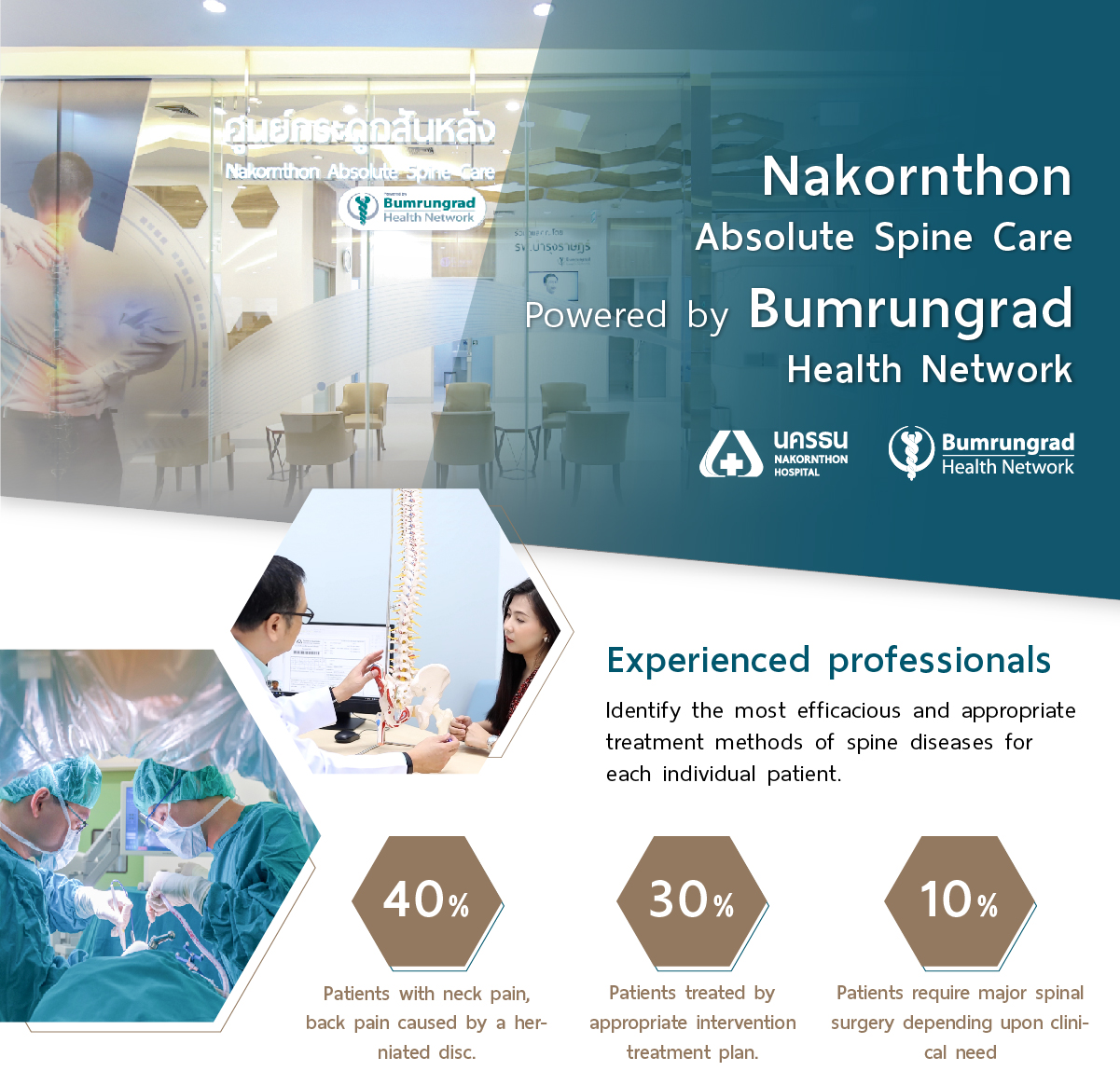 "Identify the most efficacious and appropriate treatment methods of spine diseases for each individual patient. "
---
Principal diagnoses are performed by a team of specialists with over a decade of experience in the treatment of spine diseases to identify the actual causes of the diseases and the most efficacious and appropriate treatment method for each individual patient. Most of the patients' symptoms are "back pain spreading to legs" หรือ "neck pain spreading to arms", coinciding with numbness or motor weakness, etc.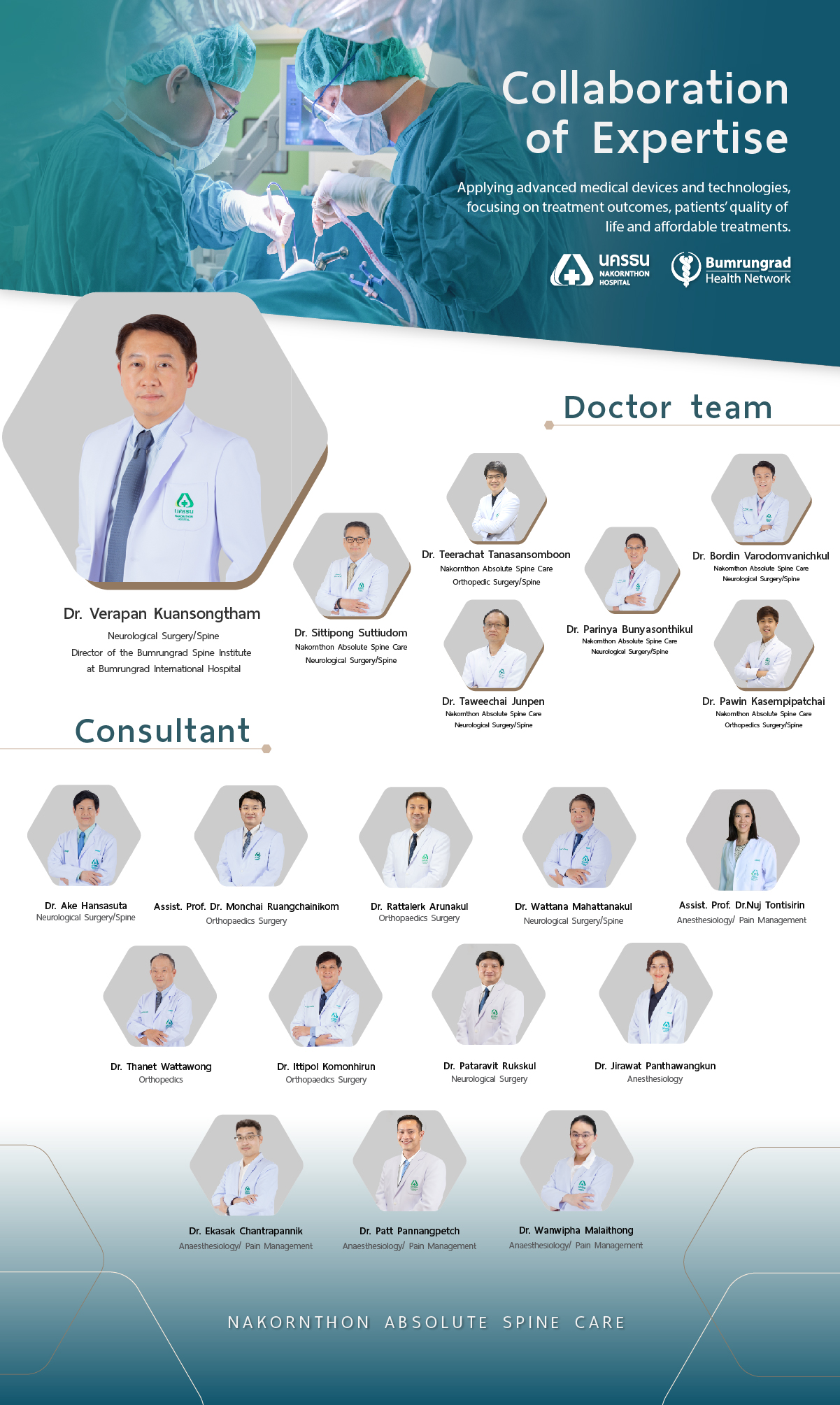 Technologies for Diagnostic Tests and Treatments
A team of specialists will identify an appropriate treatment method for each patient. After the patient is diagnosed by the specialists of the center, the outcome will be mutually diagnosed by four specialists or more in a meeting of a team of specialists of the Spine Institute, Bumrungrad Hospital, comprising specialists in spine surgery and brain and nervous system and pain interventionist, etc. Anyhow, if the patient needs a surgery, a surgeon will perform the surgery joined by a surgeon in charge of the patient for double safety with the best alternative treatment for the patient.

Non-Surgical Treatment for Spine
Pain Management ProcedurePain Relief Method with Steroid Injection for Pain Relief
Steroid Injection for Pain Relief To minimize inflammation and swelling of ganglia caused from herniated disc or spinal stenosis.
Use of Radiofrequency for Facet Joint Therapy To reduce transmission of pain signal and pain.
Facet Joint Injection or Facet Nerve Injection Local anesthetic probably mixed with steroid is injected into the facet joint or the facet nerve suspected of causing the pain.

Surgery Treatment for Spine
Endoscopic Spine Surgery The surgery will be performed by using high definition endoscope, being inserted into minor skin wound to reach the spine.
Anterior Cervical Discectomy with FusionTo treat herniated disc or cervical myelopathy or cervical spondylosis, coinciding with osteophytes.
Cervical Disc ReplacementA surgery needs a microscope to remove a cervical disc from nerve and replace it with an artificial one.
Minimally Invasive Transforaminal Lumbar Interbody Fusion All cervical discs are removed and replaced with artificial ones, fixed with screws between joints and shattered vertebrae for spine connection.
Vertebroplasty by Navigation Computer Cement is injected into minor skin wound, the same size as straw, to connect fractured vertebrae by not using a screw.

Moreover, advanced technologies are utilized for diagnostic tests of spine diseases, such as DXA Scan, MRI, etc. Nakornthon Hospital is qualified for surgeries with advanced techniques for minor wounds, mild pain and rapid recovery, deemed to be the main approach of Minimally Invasive Spine Surgery. Surgical wounds will become smaller, and patients' pain will be reduced, minimizing the disadvantages of major wounds and resulting in higher safety for the patients.
Pre-and Post-Treatment Patient Care for Better Quality of Life and Reduction of Chances of Recurrence
Patients will be provided with pre-surgical information to allow the patients to understand the treatment process before, during and after the surgeries. In addition, muscle training is provided by physiotherapists to prepare the patients prior to the surgeries. Furthermore, advice is provided for the patients during treatments in the hospital and before going home. The advice comprises post-surgery care and restrictions, conforming to the patients' daily life, so that the patients can improve quality of life and minimize chances of recurrence.

Consult Online
---
Business hours
Open daily Monday-Sunday from 08.00-20.00 hrs
Location
Nakornthon Absolute Spine Care, Nakornthon Hospital Fl.2
Contact
Tel. 0-2450-9999 ext. 1148-1149
Medical team of Nakornthon Absolute Spine Care